The Multi-Port Controller (MPC) connects to a host computer and provides multiplexing of messages from peripheral devices. Data is buffered until a terminating character is received. The message is then sent to the host, preceded by a control character and a 2-digit port identification number. The host can also select individual device ports to transmit data to while simultaneously receiving data from all device ports.
All ports are easily configured for speed, word length, parity and stop bits using menu-driven commands from the Network Management Port (NMP). In addition, the message terminate character, host control character, and XON / XOFF flow control are also user selectable. The host port may be configured to a speed different from the device ports. Each device port may be configured independently with speed, parity, etc.
The host port is usually connected to a computer and the device ports are connected to peripheral devices such a cash registers, bar code readers, digital instruments, etc.
To transmit data to a peripheral device, the host sends the control character followed by the desired 2-digit device port number. The host will remain connected to that peripheral device until a different device (port number) is selected.
The control character and port number are trapped and not sent to the peripheral device. If you wish to send the control character to the peripheral device, you must send it twice. The first control character is trapped and the second is passed through to the device port.
Data received from the peripheral devices is treated as a message (or block). The message begins when a device port receives a character from the attached device and ends when the port terminate character is received. The block is then sent to the host port using the host terminate character. The MPC automatically inserts the control character and the port number as the first three characters of each block for port identification.
The MPC functions much like the Baytech model 528AC11P programmable controller (and some others) with additional management functions. However, to replace a Baytech model, the customer must know details of the existing equipment configuration. This can not be determined from a non-functional unit. The 528 series controllers operate in one of six operating modes. The MPC emulates only modes 1 and 2 of the Baytech models. If you are using one of the other modes, the MPC will most likely not work in your application. You will also need to know the "port terminator character" and the "host control character" currently in use. This information is required to configure the MPC if a Baytech is unit is being replaced. If you are using a Baytech unit with less than 10 ports, ask us to ship the "BT firmware" version which uses single digit port numbers. You may also need a SR Port Adapter ( P# 9802008) and line cord for each port, including the host port, for the physical connection.
---
MPC
4, 8, 16, 24 or 32 channels
All ports can be 38,400 bps
Data Format

Bits: 5, 6, 7, or 8
Parity: Even, Odd, or None
Stop Bits: 1, 1.5, or 2
One Start bit

Rates: 300, 1200, 1800, 2400, 4800, 9600, 19200, 38400 bps individually selectable per port
Interface: CCITT V.24, RS-232-D (RS-422, RS-485/4 wire with adapters )
Connectors: RJ-45 (8-wire)
Buffering: 512 bytes per port
Port flow control Set on an individual port basis:

Hardware (CTS/BUSY), always active
Software (Xon/Xoff), optional
Power, Activity, Line Error, Modem Ready, Option, Port 1 Setup, Loopback
Interface: CCITT V.24, RS-232-D
Connector: RJ-45 (8-wire)
Can be mapped to Port 1
Network Management Port to terminal cable included
Show Host Port Configuration
Show Unit Configuration
Configure Host (Port)
Configure (Device) Ports
Set Unit Identifier
Show Activity Counters
Zero Activity Counters
Show (device port) Flow Control
Loop MPC Host Port
Quit Loop
Monitor (Device) Port Tx
Monitor (Device) Port Rx
Set NMP Parity
Reset MPC
Reset to Factory Default Settings
Type
Repeat Last Command
Disconnect NMP
Power requirements: 120 VAC, 30-43 Watts, .25-.36 Amps (Optional 12, 24, or 48 Vdc Power supplies available)
101/4" x 93/4" x 21/4" (8 or 16 channels)
101/4" x 93/4" x 41/2" (24 or 32 channels)
Temperature: Operating Temperature: -40 to +70C

Rack Mounting Options
DC Power Supply Options
---

Rear view of 16 channel MPC Multiplexer
---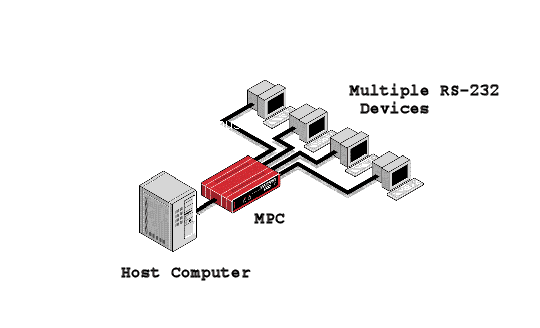 ---
HOST or REMOTE:
MPC-04
4 Port MPC
$ 775
MPC-08
8 Port MPC
$ 1,350
MPC-16
16 Port MPC
$ 2,295
MPC-24
24 Port MPC
$ 3,495
MPC-32
32 Port MPC
$ 4,695
RK-8/16
Rack mount for 4/8/16 port unit
$ 49
RK-24/32
Rack mount for 24/32 port unit
$ 59
See
DCB Rack Mount Data Sheet
for high density rack mounting options.
See
Industrial DC Power Supply Data Sheet
for 12, 24,and 48Vdc input power supply options.
Applications notes are available from this web site.
Click here!
---
---

Data Comm for Business Inc.
2949 County Road 1000 E
Dewey, Il 61840
Voice: 217-897-6600
Toll Free: 800-4-DCB-NET
Toll Free: 800-432-2638
Email: Contact Page
Web: www.dcbnet.com
Fax: 217-897-8023
All DCB web pages copyright ©1995- Data Comm for Business, All rights reserved.
EtherPath®, EtherSeries®, EtherPoll®, EtherBridge® and EtherModem® are Registered Trademarks of Data Comm for Business, Inc.