Integrated Multi-Services Access Platform - PDH/SDH/SONET/PTN


---
Loop-O9500R-PTN IMAP-PTN
---
6U height, full front access (ETSI) shelf
SDH/SONET VCn/VTn Cross-Connect Capacity: 14Gbps bidirectional non-blocking
PTN (CE and MPLS-TP) Switching Capacity: 100Gbps bidirectional non-blocking
Aggregate cross-connect modules (controller modules)

Up to STM-1/4/16 (OC-3/12/48) aggregate lines with software configuration

Hot-swappable cross-connect modules, tributary modules and power modules.
Tributary Modules

High-Speed (High Density) access tributary modules (HS)
Low-Speed access tributary modules (LS)

Power Modules

DC Module (-48/-125* Vdc)
Dual Power (1+1) Protection

Protection Scheme

Controller cross-connect unit (CCPA) protection, MSP (1+1), SNCP/UPSR Ring
Tributary protection

E1/T1: Card/Port (1:1) using Y-box, Line (1+1)
E3/T3: Line (1+1)
B155/622: MSP, SNCP/UPSR
Ethernet
FOM: Line (1+1)
4GEoSDH: Card
PTN Swtich Fabric 1:1 *

Network Protection

MSP 1+1
SNCP/UPSR
Ethernet Ring Protection (ERPS G.8032)
Link Aggregation (Inter and Intra board)
LSP Linear Protection (1+1/1:1)* sub 50ms

External/Internal/Line timing source with SSM

SyncE
IEEE 1588
TDM clocks

Ethernet over SDH/SONET supports GFP, LAPS, VCAT, LCAS and non-LCAS
Alarm suppression, masking and reports
Management

Console port, VT100 menu-driven
SNMP Port
Telnet and SSH
Centralized management with Loop's EMS/NMS over DCC channel
Loop-iNET GUI EMS
Loop-iNMS with full FCAPS and end-to-end circuit management and diagnosis

RoHS compliant
---
---
| | |
| --- | --- |
| | Typical Application, Click to Enlarge |
---
The Loop-O9500R-PTN IMAP-PTN (Integrated Multi-Services Access Platform) is an economical integrated solution supporting PDH/SDH/SONET/PTN simultaneously on the same platform. It's designed to support the DS0 access and PDH interfaces to be freely carried over SDH/SONET or/and PTN (MPLS/CE) uplink.
SDH/SONET uplink is capable of supporting either STM-1/4/16 or OC-3/12/48. While the access is provided through either a non-blocking VCn/VTn cross-connect with HS tributary modules or through an additional non-blocking DS0 cross-connect fabric with LS tributary modules.
With the PTN10G interface card, the O9500R-PTN will be able to further transport PDH/SDH/SONET over PSN network. With O9500R-PTN as a gateway between SDH/SONET and PTN, existing SDH/SONET network user will be able to migrate from SDH/SONET/PDH to PTN network, smoothly and seamlessly.
With up to 4 STM-1/4/16 (OC-3/12/48) aggregate interfaces on cross-connect modules and 8 STM-1 (OC-3) interfaces on tributaries, the Loop-O9500R-PTN offers service providers a versatile protection schemes including SNCP(UPSR) and MSP(1+1) protection for both ring and linear network topologies. The O9500R-PTN can work with the Loop-O9100 and Loop-O9400 for SDH/SONET networking.
The non-blocking VC11/VC12/VC3/VC4 (VT1.5/VT2/STS-1/STS-3) crossconnect capability on High Speed (HS) is up to 20 VC4. The HS tributary modules include optical STM-1/4 (OC-3/12), E3/T3, E1/T1 interfaces, FOM and Fast Ethernet/Gigabit Ethernet over STM-1/4/16 (OC-3/12/48). Ethernet signals are mapped onto STM payload through standard techniques such as GFP, LAPS, VCAT, LCAS, and non-LCAS. These HS modules are identical to those used in the rack version of the Loop-O9400.
The uplink non-blocking DS0 cross-connect to HS is up to 21 E1 or 28 T1. The non-blocking DS0 cross-connect capability on Low Speed (LS) is up to 768 DS0. Through a full non-blocking DS0 cross-connect and together can act as a mini DACS. The modules include variety of TDM, IP, and voice interfaces detailed on next page. All LS modules are identical to those used in rack version of the Loop-AM3440.
All interfaces are fully compliant with the relevant ETSI standards and ITU recommendations. The O9500R-PTN provides full Operation, Administration, Maintenance and Provisioning (OAM&P) functionality. Users can easily operate the O9500R-PTN locally or remotely for centralized management with Loop-iNET (EMS) and Loop-iNMS (Integrated NMS).
* Future Option
---
For detailed information on the many interface cards available for this product, please click here to download the 30 page printable data sheet.
---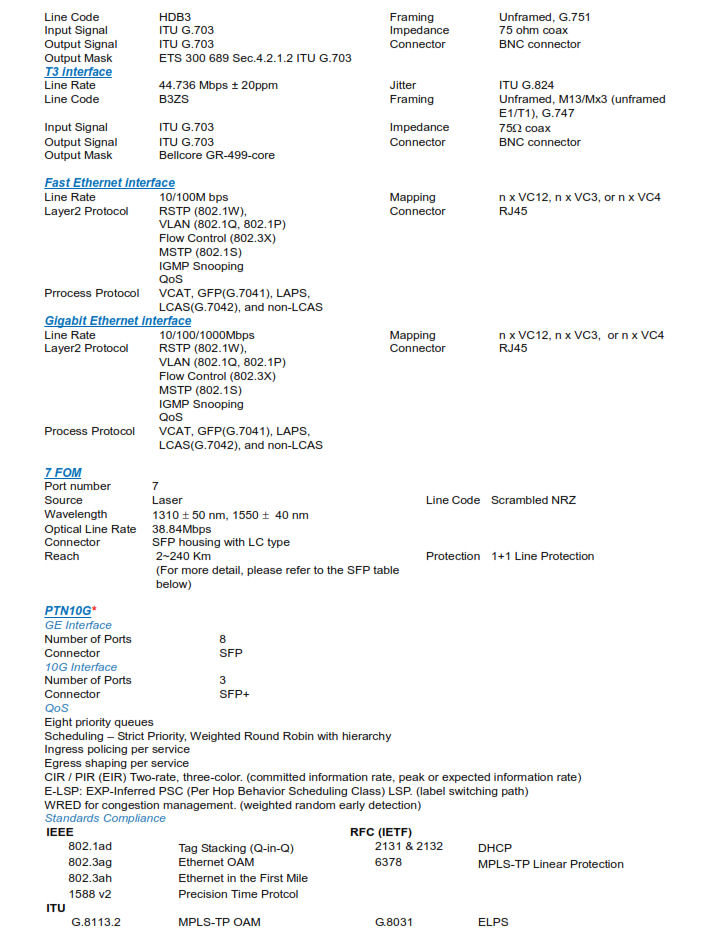 ---
Typical Front Panel
---
Application Notes
These application notes cover many aspects of Integrated Access Multiplexer applications. While some are specific to particular products, many are applicable to most any of our channel bank, IAD, or TDM aggregation products. The principles are the same.
We invest a great deal of time and effort creating tools like these to assist our customers, so most are available only to DCB customers. If you are one of our customers and don't have the required customer access password, please contact your sales representative to obtain your free password.
Application notes specific to the Loop AM-3440, its configuration, and interface cards. Note that many of these interface and tributary cards are used on other products as well: