Transports one or two E-1 Over IP Ethernet


---
TDMoE IP-6702 E-1 Over IP Ethernet
---
Transport one or two E1 over IP networks, TDMOE
Point-to-point or one IP-6702 to two IP-6702s (Point-to-multipoint)
10/100 Base-Tx UTP or 10/100 Base Fx Fiber (future option)
E1 interfaces: 1 or 2 BNC/RJ connectors
LAN interface: one 10/100BaseT Ethernet
WAN 1: 10/100BaseT or optical Ethernet 100BaseFX
WAN 2: Optical SFP or protection for WAN1
Clock timing source may be internal ( 20 ppm), E1 or PW
Alarm relay
Management by Console port, Ethernet LoopView, Telnet, SNMP
QOS, ToS, VLAN, VNAL Q-in-Q (tagging and removal) jumbo frames
Supports NTP updates
Multi-color LED indicators
Jitter & Wander: G.823 traffic
Certified and Standard COmpliance
Budgetary cost as low as $600 per unit
RoHS Compliant models available
---
---
| | |
| --- | --- |
| | Typical Installation |
---
FEATURES
Transport one or two E1 over IP networks, TDMOE
Point-to-point or one IP-6702 to two IP-6702s (Point-to-multipoint)
10/100 Base-Tx UTP or 10/100 Base Fx Fiber (future option)
E1 interfaces: 1 or 2 BNC/RJ connectors
LAN interface: one 10/100BaseT Ethernet
WAN 1: 10/100BaseT or optical Ethernet 100BaseFX
WAN 2: Optical SFP or protection for WAN1
Clock timing source may be internal ( 20 ppm), E1 or PW
Alarm relay
Management by Console port, Ethernet LoopView, Telnet, SNMP
QOS, ToS, VLAN, VNAL Q-in-Q (tagging and removal) jumbo frames
Supports NTP updates
Multi-color LED indicators
Jitter & Wander: G.823 traffic
Certified and Standard Compliance
RoHS Compliant models available
---
The Loop-IP-6702 allows transport of 1 or 2 E1 lines with timing and Ethernet traffic over IP network. This allows cost effective migration to IP network from existing voice and data network using existing TDM based equipment.
On the WAN side, the Ethernet interface may be 10/100Mb electric or 100FX optical Ethernet. On the tributary side, the TDM ports can be one or two E1. Two Ethernet LAN ports are also include for lower priority user data traffic.
Loop-IP-6702 has built-in AC or DC power. Management choices include console port, SNMP port, and in-band management through the Ethernet WAN port.
For transport of TDM signals E1 Jitter and Wander adheres to G.823 Traffic.
---
Electric Ethernet WAN Interface
Interface 10/100 BaseT
Connector RJ45
Optical Ethernet WAN Interface
Speed 100 Base-FX
Connector SFP 3.3V
E1 Tributary Interface
Line Rate 2.048 Mbps ± 50 ppm Input Signal ITU G.703
Framing CCITT G.704 Output Signal ITU G.703
Line Code AMI/HDB3 Jitter CCITT G.823
Connector BNC and RJ48C Electrical 75 ohm coax/120 ohm twisted pair (programmable)
LAN Tributary Interface
Number of Ports 2
Speed 10/100 BaseT
Connector RJ45
Ethernet Switch
Jumbo frame up to 2048 bytes
User configurable ToS in outgoing IP frame
VLAN: Supports Q-in-Q
Packet transparency
Packet Delay Variation
For E1: Up to 256 ms
SNTP
SNTP client support
Sync with up to 2 time servers
Clock Source
Clock Internal (20 ppm), E1 line , WAN port (PW)
Alarm Relay
Alarm Relay Fuse alarm, performance alarm
Connector 3 pin terminal block
Network Management
Console Port SNMP Port
Electrical RS232 interface Protocol V1
Protocol Menu driven VT-100 terminal Connector RJ45 at front panel
Connector DB9, female, DCE
Baud rate 2400, 4800, 9600, 19200, 38400
Performance monitors (E1)
Performance Store The last 24 hours performance in 15-minute intervals
Monitor Registers Line, user and remote site
Performance Reports Date &Time, Error second, Unavailable second, Bursty error second, and severe error second
Alarm History
Alarm Severity
Date & time, alarm type(i.e. clock loss, LOS, BPV, ES)
Critical, Major, Minor, Disable
Alarm Threshold BPV (1 x 10-5 to 1 x 10-9), ES (1 to 900 sec.), UAS (1 to 900 sec.)
Diagnostics test (E1*)
Loopback: Line loopback and local loopback
Front Panel
LEDs Power, ALARM
E1: ACT, TEST, LOS, BPV
Ethernet LAN: LINK/ACT, 10/100
Ethernet WAN: LINK/ACT, 10/100
PW (bundle): LOPI
Power
Fixed AC (100 to 240 VAC)
Fixed DC (-42 to -72 VDC)
Combine AC and DC (AoD): 100 to 240 VAC, -42 to -72 VDC
Power Consumption: Less than 5.0W
Physical and Environmental
Dimensions 210 x 41.5 x 140 mm. (W x H x D)
Temperature 0 -50°C
Humidity 0-95%RH (NON-CONDENSING)
Mounting Desk-top stackable, wall mount
Certification
EMC EN55022 Class A, EN50024, EN300 386, FCC Part 15 Subpart B Class A
Safety IEC60950-1(CB), EN60950-1(CE)
Standard Compliance
ITU G.703, G.704, G.706, G.823, G.824, G.826, PWE3
IETF SAToP, 802.1p/Q
Panel Layouts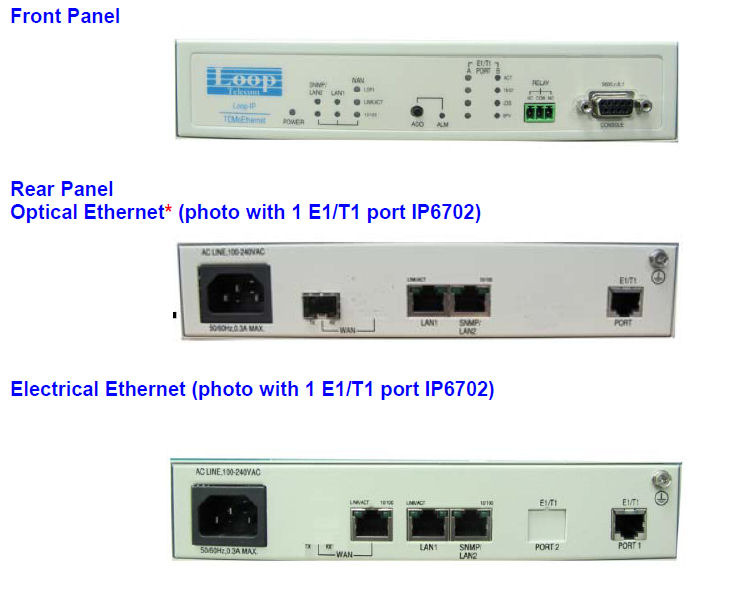 Topology
The IP-6702 can be used point-to-point to transport two E1s over ethernet, TDMOE. E1 traffic may be sent to one or two different IP-6702 end points.
Transmission Protocol
The IP-6700 uses UDP packets to transmit the E1 information. The UDP packets are formed of AAL1 cells of 48 bytes per cell. AAL1 is the ATM Adaption Layer, and an efficient method for TDMoE.
Application Drawings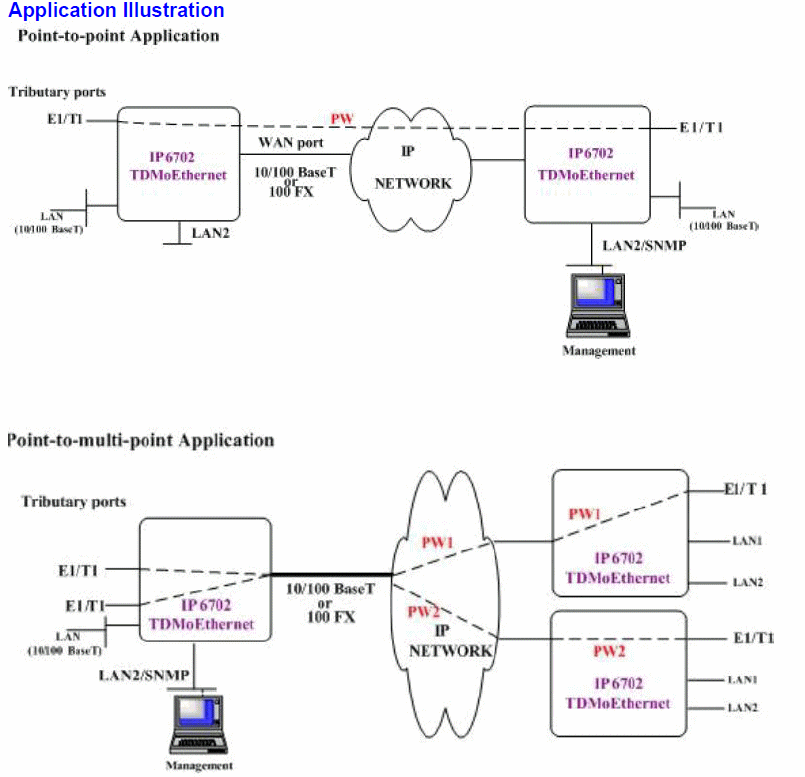 Wireless Link Application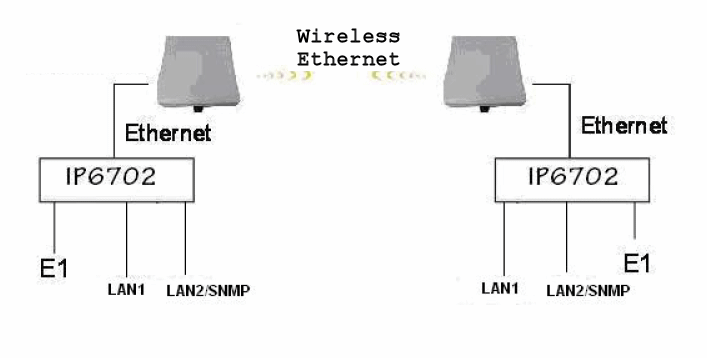 Application Notes
These were written for the sister product the IP-6700, and illustrate the principles involved in TDMoE. IP-6700 E1 over Ethernet Applications Note describing the use of bundles, cells, and IP bandwidth required to be successful transporting E1 TDM data via ethernet.
IP-6700 Configuration Quick-Start Guide provides insight into the local site information required for a quick, successful configuration and installation of the IP-6700.
Please call for pricing and additional ordering information.
Typical Pricing:
One IP6702 with PPM crystal, SNMP, an electrical WAN port, one E1 port, one LAN port and AC power $594 each
---

Data Comm for Business Inc.
2949 County Road 1000 E
Dewey, Il 61840
Voice: 217-897-6600
Toll Free: 800-4-DCB-NET
Toll Free: 800-432-2638
Email: Contact Page
Web: www.dcbnet.com
Fax: 217-897-8023
All DCB web pages copyright ©1995- Data Comm for Business, All rights reserved.
EtherPath®, EtherSeries®, EtherPoll®, EtherBridge® and EtherModem® are Registered Trademarks of Data Comm for Business, Inc.